I've been asked by clients and local business owners about how to test websites on mobile devices. Knowing how your site looks on different platforms is crucial as visitors are already looking at your websites from iPhones, iPads, and Android devices. It may not look anywhere near the same as browsing from a computer.
The problem is, you don't have every one of those devices on hand to check your website with. There are no perfect tools, but many great ways to approximate how your site displays. Here are my picks for various platforms:
---
---
For testing the most mobile devices online in a computer browser, I recommend OfferMobi. I've hunted everywhere for a website that can display any Android simulators in a browser and was thrilled with the results.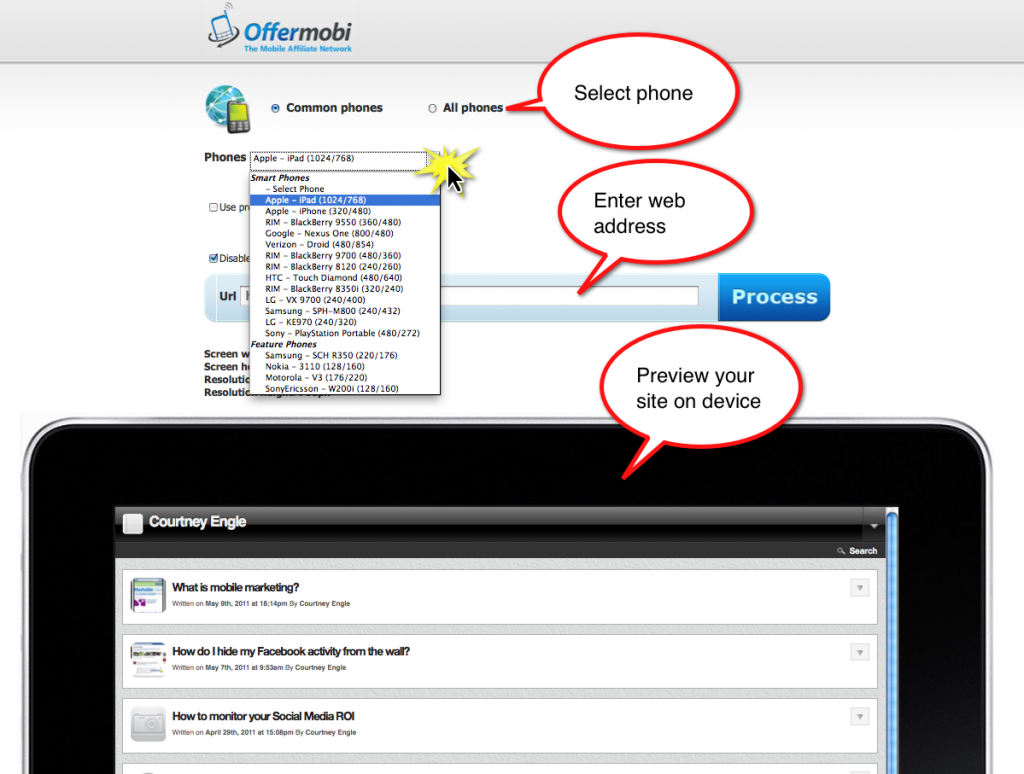 Testing your website on many mobile devices is much easier with this site.
---
---
Feature phones are still gaining ground in the mobile browsing space. Many mobile users still have the free phone that comes with their 2 year contracts. Often these phones have a limited web browser built-in. At best, the text of your website should display on the screen for visitors along with basic navigation. Images might not be supported depending upon the device and the browser.
It's more important to test your site on smart phones, but it can be useful to view on feature phones as well.
To test your website, I recommend MobiReady. It is a simple browser test for less "smart-phones".
---
I've been working on a big project for 5 months with GFYD Member team leader, Kimberly Bohannon. We're launching something that will help brick and mortar business owners get their websites ready for mobile devices, stake their social media presence, and attract more local clients and sales. Big news coming very soon…